Overview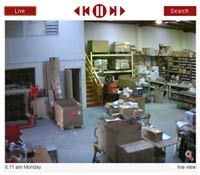 Timeshot provides a fast, painless way of setting up surveillance cameras, without going to the expense of installing an in house DVR system. Timeshot leverages off of the latest ability of IP cameras to send recorded images ('shots') to a remote site over the internet. Timeshot then organises and stores these shots so you can quickly access them anywhere in the world that you have internet access, via our secure website. Designed for personal, business and enterprise use; Timeshot allows you to create multiple user accounts with differing levels of access to cameras. So you can assign staff members or family members access to a single camera without compromising your account.
Features & Benefits
2 Minute Installation
Low Cost
Secure
Accessible Anywhere
Easy to use
Mobile Phone Support
Capture Evidence
Go away feeling safe in the knowledge that you can watch your possessions from afar.
Save yourself the inconvenience/cost of having to physically check your home or business when a monitored alarm is triggered.
Deploy a multitude of surveillance equipment rapidly with no technical knowledge required with preconfigured cameras.
Your cameras needs are minimal with only a Power and a Network connection required.
Usage
Timeshot has two major camera shot views, the 'Search' and 'Single Shot' view. The search allows quick and intuitive time navigation, so you can find important, relevant shots fast. The single view is optimised for viewing shots in a movie like fashion, supporting 'Play Forward/Reverse', 'Skip Forward/Reverse' and 'Live' which automatically updates the image to the latest shot available. Both views integrate seamlessly with each other so searching and streaming shots can be navigated quickly and painlessly.